The hottest looks and news; London Fashion week 2018
Models, editors, Insta-stars and bloggers bundled up while showing off under the grey skies of London. The first London Fashion Week of 2018 is upon us and there are a number of things we at Milani Clothing Company are excited about. Will the different trends from last season come into play this February? Will we see more new designers take centre stage? Here's what we're looking out for
Activism
From the Christian Dior T-shirt citing 'Chimamanda', and Ngozi Adichie's Ted Talk "We Should All Be Feminists". Today's world offers fashion designers a chance to send a political messages - in spite of the fact that not very numerous take it up.
Part of the way through the ready to-wear shows, we have just observed designate of references to the #MeToo and different developments identified with #MeToo. Nobody, in any case, could have seen Christopher Kane's strong proclamation coming.
"I'm not getting into the whole moment we're in, but the fact is, yeah, it's human behaviour and to me it's fascinating," Kane said of his sex-driven show, which proudly played on every one of the digressions of sensuality. Besides, he mentioned:" It's a creative process and I'm not going to stop being myself or feeling the way I feel," Kane asserted, echoing a statement you hear a lot - anywhere but on the record. "It's not to in any way disrespect anything that's happening, but every season there's always an element of sexual and human behaviour, and that's just reality." In fashion there's nothing better and more noteworthy than bravery, especially when it's founded in a no-nonsense approach like Kane's.
Christopher Kane Autumn/Winter 2018 Ready-To-Wear Collection
Christopher Kane Autumn/Winter 2018 Ready-To-Wear Collection
Statement peace by Ashish
Anna Trevelyan wearing the @ashish top
The Queen at the front row at LFW
Bits of gossip spreaded that Her Majesty would be available at the LFW celebrations. She started her visit by investigating the BFC's creator showrooms space, flanked by the British Fashion Council's CEO, Caroline Rush, and Dylan Jones, the editorial manager of GQ and London Fashion Week Men's administrator, before making a beeline for Richard Quinn's harvest time/winter 2018 show.

Source: Getty Images
By then it was on with the show. A luxurious blue cushion was put on one of the Philippe Starck ghost situates that included the front segment, over which sat a printed A4 sheet of "articulations of appreciation" from Quinn to his family, partners and aides. Showgoers were upstanding as Her Majesty sat down adjacent to Rush and Anna Wintour. All through the show she smiled and made comments to both her front segment companions, yelling perhaps at the plausible dream for Quinn's scarf-printed indications, and the models who wore scarves tied under their catches. In particular, the printed florals that came embellished with cruiser tops appeared to intrigue her.


The royal family affirmed through Twitter that the Queen's expectation was to visit London Fashion Week "to display the inaugural Queen Elizabeth II Award for British Design." The honor will be "started in acknowledgment of the part the mold business plays in the public arena and discretion, [and] be granted yearly to a developing British form fashioner who indicates ability and creativity, while exhibiting an incentive to the group as well as practical strategies".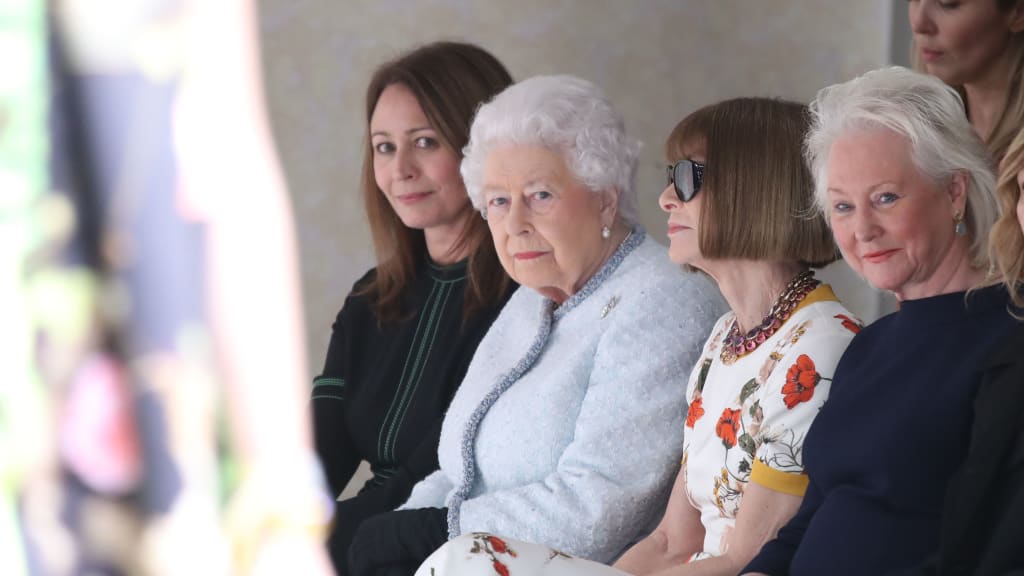 Source: Getty Images
"Inappropriate glamour"
Michael Halpern, mirrored the present strain amongst coarseness and charm in an collection he called "Inappropiate Glamour". Handling his image as a formalwear brand/designer head on, Halpern canvassed daywear in vivid sequins and couture-like hanging.
"Why can't you wear a sequinned jacket during the day? I wouldn't fret being called an eveningwear brand, in light of the fact that many people wear it like that, yet it's interesting to challange that idea," he said. ~Micheal Halpern
Halpern 2018-2019 fashion-show
Sequins at Halpern weren't surprising yet observing them cycling down the road on a Tuesday morning unquestionably will be. That is the colossal thing about London Fashion Week: some of these thoughts may appear to be unbelievable now, yet in a couple of years we'll all be calling Halpern a change-creator. That is the reason our 91-year-old Queen of England, who has never been seen on the front line of a fashion show in her life, chose the time had come to participate in this season.
Street Styles
The road style peacocks needed to overcome a ton this past Fashion Week, including exuberant storms and solidifying temperatures. Be that as it may, it demonstrated that all you have to lift your outfit is an awesome coat and savvy accesoiries — let them do the talking.
There were the tremendous puffer coats straight out of Balenciaga advertisements in a rainbow of hues. Supreme units, every one of them. There were coats with delicate, unbiased shaded fluff that influenced the wearer to look in a split second like a huggable teddy bear. Monster, brilliant hides from any semblance of Saks Potts and House of Fluff kept each outfit bright and fascinating. At the point when all else bombs, there's dependably the trench coat in elastic ducky yellow, in a rainbow of plaid, or in Burberry plaid.
This season was about the additional pops that permeate an outfit with identity, similar to a knitted handbag with five additional pockets. Basin caps returned for another season, as did imaginatively worn fanny packs, while all the more scary caps, similar to berets, pageboy tops, and fedoras, turned out to be generally open. Nineties shades ruled (you can say thanks to Rihanna and Kanye). Significant runway patterns from last season reemerged in road style — including head-to-toe red and straightforward garments and adornments. Maybe next season, road style pics will incorporate significantly more food (particularly, packs of Flamin' Hot Cheetos).
Photo: Youngjun Koo
Photo: Youngjun Koo
Ada Kokosar, Ece Sükan Photo: Youngjun Koo
Rachael Wang Photo: Youngjun Koo